Summary of Stage/Experiment 1
So far its been both a blessing and curse that my origin piece perfectly reflects my interests and ethical values. Despite the fact that I am an economics major and super passionate about finance, I am very conscious of the damage greed and capitalism have had throughout human history. My origin piece reflects this concern in that it is a philosophical narrative on how society would be different if money did not exist, and whether such a society would be feasible. As I mentioned in my last blog post, the primary problem with the origin piece is that it is far too broad and does not focus on any specific angle to address the ethical concern at hand.
In experiment 1, I attempted to portray the idea of a moneyless society through a modern social science novel, something like Freakonomics. I believe that my prior experience in reading these genres had provided me with both a clear passion and knowledge on the nuisances in the genre's style. Yet over the course of the experiment I felt like my interest was waning, as I begun to realize that I was TOO familiar with this form of research writing. At a certain point I just wanted to end the experiment and then start doing something that was fresh for me and would force me to do something out of my comfort zone. So I begun to explore my other interests and passions to find something fun that I could combine my idea of a moneyless society with. I chose to experiment with my love for Hip-Hop music.
How To Write Modern Rap Music
Don't get your hopes up, I'm not making a rap song and am not an aspiring SoundCloud rapper. I'm just a fan of a wide-range of hip-hop sub-genres: old-school East Coast, West Coast G-Funk, Southern chopped and screwed, Trap, "Mumble" rap, etc. You name the style and I probably already listen to it. In the past several years, there is a clear stylistic trend that any major hip-hop fan is aware of. This is the prevailing dominance of Atlanta trap.
Atlanta's Modern Origins
There is no doubt that Atlanta is the modern capital of global hip-hop; however, this is difficult to observe in the moment. Only in retrospect do we see the dominance of NYC in the late 90s and the reemergence of California rap in the early 2000s. That is why we should briefly discuss my theory of TrapLanta's rise. While many hip-hop cultures like the Gangsta rap culture of 90s' LA are in response to social issues like police brutality and the War on Drugs, Atlanta rappers do not have seem to be responding to any larger issues, which explains why the lyrics are so widely criticized for being "empty." That's not to say that there are no issues to respond to, however. Rappers like Kendrick Lamar, Jay-Z, and Logic have reasserted hip-hop's usefulness as a social weapon, as they address police brutality, gay rights, and mental health awareness all in their songs. Thus, the question is, how has the consumeristic culture of Atlanta trap taken over in a time when it appears socially music conscious reigns supreme? My answer is simple: the sound. The meteoric rise of rap from 2015 onwards intersected directly with the trends in pop music production of the same time. Auto-tune, heavy bass, and a synthetic beat defined the pop-music of this time period. These features have always been at the heart of modern Atlanta rap music. Consequently, music from Future, 21 Savage, and Lil Yachty skyrocketed in popularity and took over radios, propelling these small rappers into superstardom in just two years. With Hip-Hop now the most listened to genre in America, making it the new "Pop" music, and rappers like Migos ascending to a trans-genre throne, it may not be too far-fetched to claim that Atlanta is now America's music capital.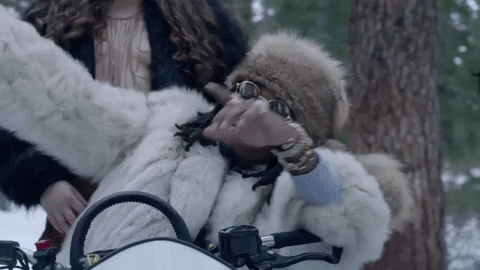 Yes, there are huge artists who have managed to maintain their own regions sound, like Kendrick Lamar and Jay Z. But most other artists have essentially fallen in line with fan demand and have tried to replicate the Atlanta style in both production and lyricism. Trap Music, the dominant sub-genre in rap currently, originated in Atlanta. If you are unsure who Atlanta's biggest artists are, here's a small list of them. Think about how many of them you were aware of five years ago.
Future
2 Chainz
Migos
Lil Yachty
Gucci Mane
Young Thug
21 Savage
Rich the Kid
6Lack
Mike WiLL Made It
In just five years, these artists have forced hip-hop to evolve in the trap era. With that change in sound, however, there has been a forced change in lyrics. Materialism has always been prominent in rap, but it has escalated to a new formulaic level. Hit rap songs these days almost always feature the following phrases/words/brands:
ICE (diamond jewelry)
Lean (cough syrup x jolly ranchers x sprite)
Xanax
Maison Margiella designer clothing
Saint Lauren designer clothing
Goyard bags
Gucci
Chanel
Patek watches
Audimar watches
Cartier
Christian Loubotuin shoes
Wraith Rolls Royce
Moncler
Rolex
Raf Simmons
I would be willing to bet that 9 of the top 10 songs on the Billboard Rap list mention at least one of these brands, drugs, or phrases. What everything on that list has in common is that rappers mention them to flaunt their wealth. Whether rapping about materialism is a good look for music or not is up to you and your preferences, but reality is that rap music is more dependent on luxury brands than ever before. The consumeristic trend in music will be around as long as Atlanta is the sound. And Atlanta has just gotten started.
Goal:
Combining music and my thoughts about a moneyless world seems perfect considering this trend in hip-hop music. Although I don't want to focus on Atlanta specifically, I do want to focus on the lyrical elements of Atlanta's hip-hop scene. Thus, my plan is to conduct a statistical analysis of the top charting hip-hop songs of the year. Specifically, I want to see what proportion of the words in each of these songs have to do with consumer culture, drugs, and wealth. Perhaps through these numbers we can determine whether our tastes for meaningful lyrics are truly reflected in the charts, or whether our current generation simply pretends to want lyrical content (assuming that consumer culture isn't real content to rap about). While for this experiment I will only check the top songs of 2017, for my final project I am considering comparing the most recent albums by my favorite artists (so that I don't have to deal with Bruno Mars being at #1 of the charts).