Don't be afraid to get messy. Those are the first words in my writing notebook and some of the first words T told me when I began this semester. And now I'd like to pass these words of wisdom along to future aspiring writers. For me, this class, and honestly this whole semester, has been all about taking risks. Taking risks with my experiments, with my portfolio, with my writer's notebook, with myself…I've found that I have pushed myself a lot farther and tested my limits quite a bit as a writer, and I am really happy that I did. My notebook is filled with rough drafts of reflections, of poems, of stories, even of drawings and "art" (although it may just look like "A for effort" attempts to the public eye…), and it's LOADED with scribbles. But I made it a rule to right everything in pen and in markers, in permanent ink. That way, even when I mess up and scratch out whatever it is I was trying to say or do, it's still there—barely, but visible enough for me to be able to constantly remind myself that writing and creating is a PROCESS. Every product of my thoughts and creations does not have to be the "finished" piece or the most polished it can be right from the start.
I used to be afraid to write for fun or write in my journal when I had random and incohesive thoughts and ideas and rants jumbled in my head. It's not that I didn't want to write them down or remember them forever, I was just nervous to include them in my journal without thinking everything through thoroughly, because I wanted my journal and all my writing in general to be well-crafted and coherent. But I started realizing that I was holding myself back. And I ended up not writing at all for the most part.
That's why this semester I made a deal with myself to let my writing and my journal get messy. The journal itself is slightly tattered and torn and some of the pages are falling out. But I like it because it feels more me and more real than ever. And the idea of not caring has allowed me to express myself in more ways than ever.
So, with that I hope you, too, realize the power of mishaps and carelessness at times, and come to learn yourself that it's okay to be messy. Don't be afraid. Be bold!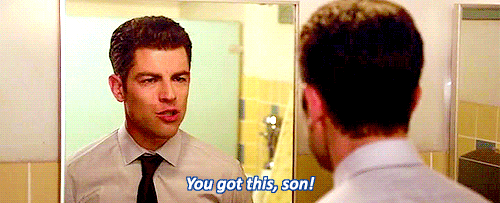 Source: Giphy