I did it. I'm currently doing it. I'm making things happen.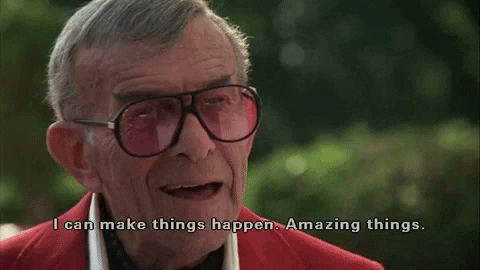 Source: Giphy
I never thought it was possible, honestly. Past students had such cool projects, and I didn't think I had an artistic bone in my body that allowed me to go beyond the words and produce something new. Words were my comfort blanket, I didn't want to expand. I didn't want to experiment. Yet, here I am, making it happen.
Source: Giphy
As this semester comes to a close and this course comes to an end, I'm realizing that I should step outside my comfort zone more often. Heck, for my third experiment I literally drew out a plan to write a novel. Now I feel like I should just see it through…maybe one day I will! Especially, since I now even have an idea of what it could be about and who it could be for.
However, for the final project, I'm glad I decided to follow through with my zine experiment. It's tough enough to make it a quality piece, but it's doable. And I'm excited to see the finished product. I'm planning on asking other zinesters I know to give me new insights and ideas to make my zine the best it can be, and I'm looking forward to creating something new and unlike anything I've done before. As the semester comes to a close, I'm feeling pretty content with the outcome. I enjoyed the experimenting and being able to dip my toes into different genres. It's opened my eyes to a bunch of new layers to writing that I'm excited to test out in the future!
Source: Giphy