In eight grade, I was on the morning announcements crew. Every single morning for a whole year, my job was to give words of wisdom. Even though my classmates were probably too tired to listen, or didn't want advice from someone their own age, I was honored to hold that position and took it seriously.
Here I am, five years later, and I'm gonna take another stab at it.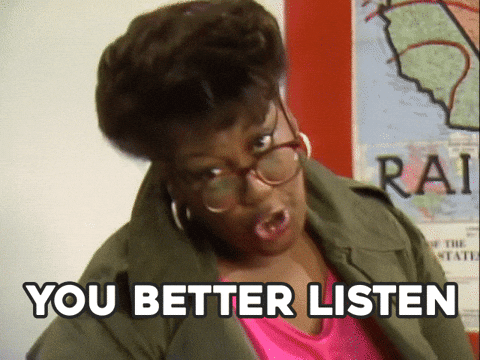 Dear future gateway students,
I learned a lot about myself over the course of this semester thanks to this class. But, it didn't just happen over night. I worked for it. I struggled, I was confused, and I was challenged. But, I came out on the other side a better writer. That's why you're doing this, right? Well, here are ten tips to help you succeed in the gateway course:
1) Get to know your classmates.
I wish I had done this earlier on in the semester. Now, classes are over and I wish I had more time with the new friends that I made. It's not like a big lecture where you sit by somebody new every day. You spend a lot of time with your classmates; take advantage of it. Some of them are in the same major as you, and now you have a study buddy. Others are in cool clubs that you now have the plug to get into. And others don't relate to you at all, but you can still learn so much from them.
2) Meet individually in "office hours" with your instructor.
I definitely did not take advantage of this as much as I should've. But, I had some of the most incredible brainstorming sessions when I met individually with T. Having an outsiders perspective opens up the door to so many new possibilities, especially when it's your instructor. They know what you're capable of and give you the confidence to do it. Thank you, T.
3) Volunteer for workshop.
Whenever T asked for volunteers for workshop, I avoided eye contact and sipped from my water bottle. "Please don't look at me, please don't" I was thinking to myself. Then, I got to my third experiment and was really proud of how far I've come. So, when the dreaded question came, I volunteered. There's nothing more nerve-wracking than your entire class reading your work, and then discussing it right in front of you for 20+ minutes. But, here I am. Still alive to tell the tale. The experiment that I had workshopped turned into my final project. Half because I was passionate about it, but half because hearing feedback from other people inspires you to take it in directions you never thought were possible.
4) Embrace the lack of structure.
I am a planner. I'm the one in my friend group that calls and makes the reservation, plans the surprise party, and gets us to class on time. Structure makes me comfortable. I feel like I can breathe easily. So, when T said that we had three assignments where we could do anything that we wanted, I kinda freaked out. I never thought of myself as a creative person, but that changed. You don't really have any other choice. Embrace it.
5) Start your e-portfolio early on.
If you're like me and have never tried to make your own website, this is important. Some people are naturals at this kind of stuff, and then there's me. I'm so proud of my e-portfolio now, but at first I was very skeptical. If I can do it, you can too. Just start early, get feedback from your classmates, and keep making changes until it's something that you're proud of.
6) Try a new genre.
I hate writing poetry. I've tried in the past and I just suck at it. At the beginning of the year, I told myself I would write a poem as one of my experiments. Andddddd, I didn't do it. I chickened out. I wish I hadn't, though. I tried other new genres, but not the one that made me feel the most vulnerable. I regret it. So, take the risk. Just do it.
7) Take notes.
During class discussion people will talk about stuff that they've done in past projects that worked, they'll mention a good book or poem, and sometimes they'll recommend really great professors and classes. Write. This. Stuff. Down. There were so many times where I would try to think back and remember these things, but my brain was stuffed with too much other work to remember it.
8) Use your writers notebook outside of class.
I journal every night before bed. Topics range from what I did that day to how much I miss my dog to an in depth description of the delicious sandwich I ate that day. It pretty much covers everything. If you're not one of those people that journals every day, challenge yourself to start. Try using the writer's notebook a couple times a week outside of class. Soon, you'll find yourself drawing on text from your notebook as inspiration for your next experiment. I think it made me a better writer, and it might do the same for you too.
9) Give yourself the credit you deserve.
As fun and rewarding as writing is. It can be hard. Acknowledge it, give yourself a pat on the back, take the compliment. Let yourself feel awesome and talented. It gives you a confidence that shines through in your work. You'll be better for it.
10) Read through this blog occasionally.
You'll probably have 15 other people in your class, but don't forget about all of the other writing minor students that you have access to. If you have some free time, take a minute to go through and read blog posts, comments, etc. You can learn a lot (and maybe even find some inspiration) in the sea of posts. There is another whole gateway class, capstone students, and a huge pool of people in between the two. Some of them might have something to offer.
If you've made it to the end of this post, you rock.
Good luck in the gateway! – Jessica Jackowicz