It's April and, in a kind of Game of Thrones way, the end is coming. We have finally gone through all our three experiments and have chosen the paths for our final projects. Much of us sitting like the following dog…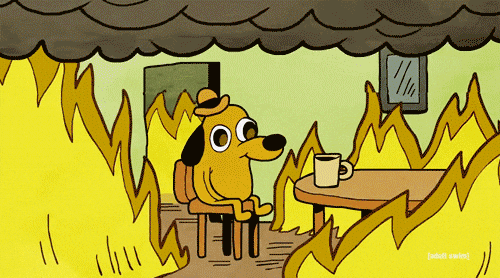 Credit: Giphy
claiming it's all fine. April has come much faster than we expected to and now none of us can wait for it to end. Looking ahead is the final project and the experiments have been left behind in the fire. The only thing that survived is the remnants of experiment #3 which I have chosen to continue on as my final project.
For experiment #3, I took my original piece and expanded on it in order to make a blog. I took the basis of my original piece, which was a research paper on the Colombian coffee industry and used it as a starting point to develop a blog focused on the entire coffee industry. The idea was to create a blog that used science-based research to develop engaging articles that can be accessed by whoever is interested in the coffee industry. For my final project, I'll be continuing with the outline I set to run this blog and continue posting to it for the remainder of the semester. The idea is to create a type coffee blog that is barely seen online nowadays.
While doing my research on coffee blogs for experiment #3, I noticed there was a lack of blogs that talked about the industry the way I wanted to speak on the industry. I wanted to provide engaging articles about the industry focusing on its environmental and social aspects but most, if not all, of the coffee blogs I encountered, were about making the perfect cup of coffee, how to become the best barista, what equipment to buy for your kitchen, and so on. As a result, I identified an unoccupied niche among coffee blogs that I could occupy. For that reason, I am choosing this experiment for my final project.
In my sample, I included the blog itself, the original piece as a special case study, and an article I wrote about climate change and the Puerto Rican coffee industry. Following the steps I outlined in my sketch, I will now continue to post articles at least once a week until the end of the semester. My sketch also outlined the way my blog will be formatted for the duration of the project and, for now, I will be sticking to this format.
I'm really looking forward to taking my original piece and transforming it into its own full-fledged platform. I never thought a research paper I wrote for a class would be transformed in this way and I'm looking forward to seeing how my blog will look like by the end of the semester. My only concern is that this project will be very time-intensive since I will be continuously researching and writing pieces for the blog for the next few weeks and it'll be interesting to see how I'll manage considering the last mideterms and class projects are fast approaching.