Journal entries are a genre we all know — a style of writing we've likely all dabbled in at some point. Still, it's not easy to classify normative conventions. We write journals about all types of things, people, places, etc. What exactly differentiates a journal entry? What makes it distinct?
I think, upon reviewing journal entries and considering how I personally feel, it all starts with tone and audience. Primarily, journal entries are meant to be personal. This doesn't mean they always have to possess our deepest, darkest secrets. It just means there is no intended audience beyond yourself. This is supposed to satisfy our own personal mode of expression through writing — a style that is as cathartic as it is linguistic. Write how you feel. Write for yourself. Don't worry about the rest.
Most picture a "dear diary" style confession when they think of journal entries. My project will be slightly different from that expectation. I will be taking my origin piece, an article in the Michigan Daily from the Final Four last year, and turning it into a series of personal journal entries about what the experience was like to travel the country and cover the basketball team. It will be written as if I was reflecting hours or days after the experience — not months ago. This will allow for a more emotional expression. I will write one journal entry for every week I traveled somewhere different (this amounts to four entries in total). It will encompass my experience as a reporter at these events.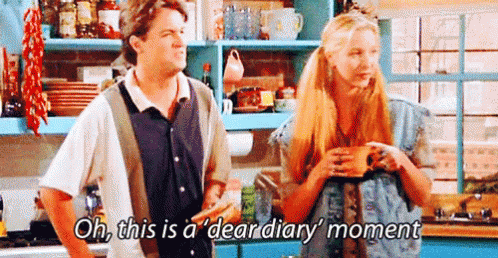 In terms of language conventions, journal entries are not devoid of them. Largely, they're casual. They are often written in phrases that might sound like spoken word. People don't tend to write long entries that wax poetic in fancy language. But it's also a personal endeavor that varies from person-to-person. As someone who likes to write, my journal entries might be a bit more formal than someone else. This, in my opinion, should be left up to the writer.
If this were to become my project, I'd likely hand-write these entries, and add some design component, filled with images from my time and however else I seek to improve the design. I think there is some potential there, though I'm still not certain whether I want this to be my final project.
Would love to know what you guys think!