As scary as a course on constant writing and human interaction sounds, I have never had more fun in a class in college than I did in the writing 220 gateway course. Judge me, I know it sounds so cliche.
My biggest piece of advice is to take this class in general. Even if it scares you, seems daunting, or isn't even necessarily a minor you are 100% sure about completing, just do it. It's worth it.
Once you make the decision to enroll in the course, in my opinion, you've done the hardest part. Putting yourself into a place of potential discomfort and vulnerability, you've taken a step closer to receiving the maximum benefits from this course.
Ever seen Ned's Declassified School Survival Guide? Here is my version of that, but for the minor in writing.
Tip #1: Talk to your fellow gateway coursers daily and get to know them. T
he class becomes the most beneficial when everyone is willing to say stuff like, "yeah, I honestly think you can do better" or "please write a blog about this because your voice is so awesome to not keep using" (s/o Adrian…please write more you crack me up). Genuine criticism from people who believe you can do better is everything any new writer needs. Honesty, respect, and true collaboration is what makes this class awesome.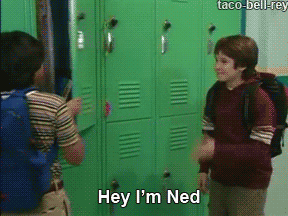 Credit: giphy
Tip #34 (the TV show goes in weird orders with tips so I'm going to as well):
Meet with your instructor. We had T as our gateway course leader and I found that meeting with her to go over nitpicky details and just to chat about writing as a whole was so beneficial. Make appointments, stop by, go in with pals, etc. Writers should all bond together.
Tip #29: Talk in class.
That sounds so stupid to say, but raise your hand if you've taken a class where you sit in silence, praying you and the teacher don't make eye contact, which guarantees you speak? This class works if everyone talks. You get to know each other's voices and personalities simply from speaking up and getting your voice out there. (If this is any inclination, one day in class, we heard Steve Carell was on campus one day and as a group, we chose to divide and conquer to find him and snag a stalker pic. This goes with tip #34, get to know your teacher so they'll be cool with you going to stalk a celeb and, going off of tip #1, get to know your pals so you can all do it together. One of my favorite memories at Michigan).
Tip #50: Write, write, and write some more.
We have writer's notebooks to use at the beginning of class, or for certain activities, but don't just use it for that. Write what you see in the world, who you meet, why you're happy, what your recent obsession is and why. Just write it down if it intrigues you. One day, you'll thank yourself for jotting it down.
Phew, 50 tips…that's a lot. But seriously, challenge yourself to try out this class, even if the only thing you get out of it is a new community of writing buddies. I love mine, and can't wait to keep in touch with them.
To T Hetzel Gateway Course 220 Tue/Thurs 10-11:30– I love you guys. Thanks for making this semester the best it could possibly be!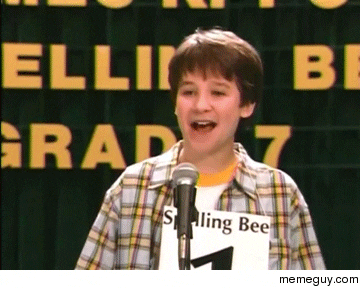 Credit: Giphy